We approach each audit with sharp thought, straight talk and common sense. In addition to verifying that financial results are fairly presented and meet...
As your business grows, our advisory services are designed to help you achieve your goals. Successful growth often means navigating a complex array of...
Tax policy reforms and the introduction of new tax regulations across the GCC are creating huge challenges for organisations. Grant Thornton UAE offers a...
Why do so few women make it to the top of the business world? And what can we do about it?
These are the key questions considered by our 2015 women in business report which looks at the barriers and enabler along the path to business leadership. Drawing on a survey of 5,404 business leaders and in-depth interviews with 20 policymakers, academics and senior decision-makers from inside and outside Grant Thornton, we draw out 12 recommendations for society, government, businesses and women themselves on how to facilitate female advancement.
Download report
Download PDF [4072 kb]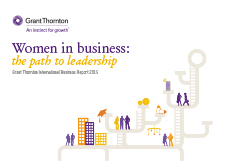 12 recommendations: