US$250bn in overseas real estate investment driven by gut feeling rather than data
Grant Thornton warns reliance on instinct can lead investors to miss emerging pockets of opportunity for growth
Soft power and gut instinct is driving an estimated US$250bn per year* in overseas real estate investment, a new report by Grant Thornton reveals, showing that feeling rather than data analysis determines many investment decisions. This comes amid a surge of overseas real estate activity as investors seek new bedrocks of political stability. However Grant Thornton warns that reliance on instinct, while important, can lead investors to miss emerging pockets of opportunity if not complemented by more analysis and using local expertise.
Cross-border real estate transactions rose by 9% in the first half of 2015** and according to research conducted by Grant Thornton for its new report Uncovering opportunities for overseas investment and growth, this surge is being driven by a growing desire to seek politically stable regions for investment. When it comes to making location decisions, gut instinct is the dominant driver. When asked what drives their decision to enter and make a significant investment in a foreign market, over half of senior executives in Canada (51%), Australia (51%), USA (58%), UK (58%) and India (61%) said that 'it simply feels like a good fit'.
Sian Sinclair, Global leader – real estate and construction at Grant Thornton, said:
"The cross-border real estate investment market is in a purple patch, as a whirlwind of demographic and political changes reshape the global landscape and force savvy, progressive investors to seek stability in new territories.
"Against this backdrop, what really stands out from our study is that the sheer force of familiarity cannot be underestimated. Put simply, investors like putting their money into territories they know. It's a double-edged sword though. Without more comprehensive analysis alongside it, gut instinct can blind investors to emerging opportunities in less familiar locations."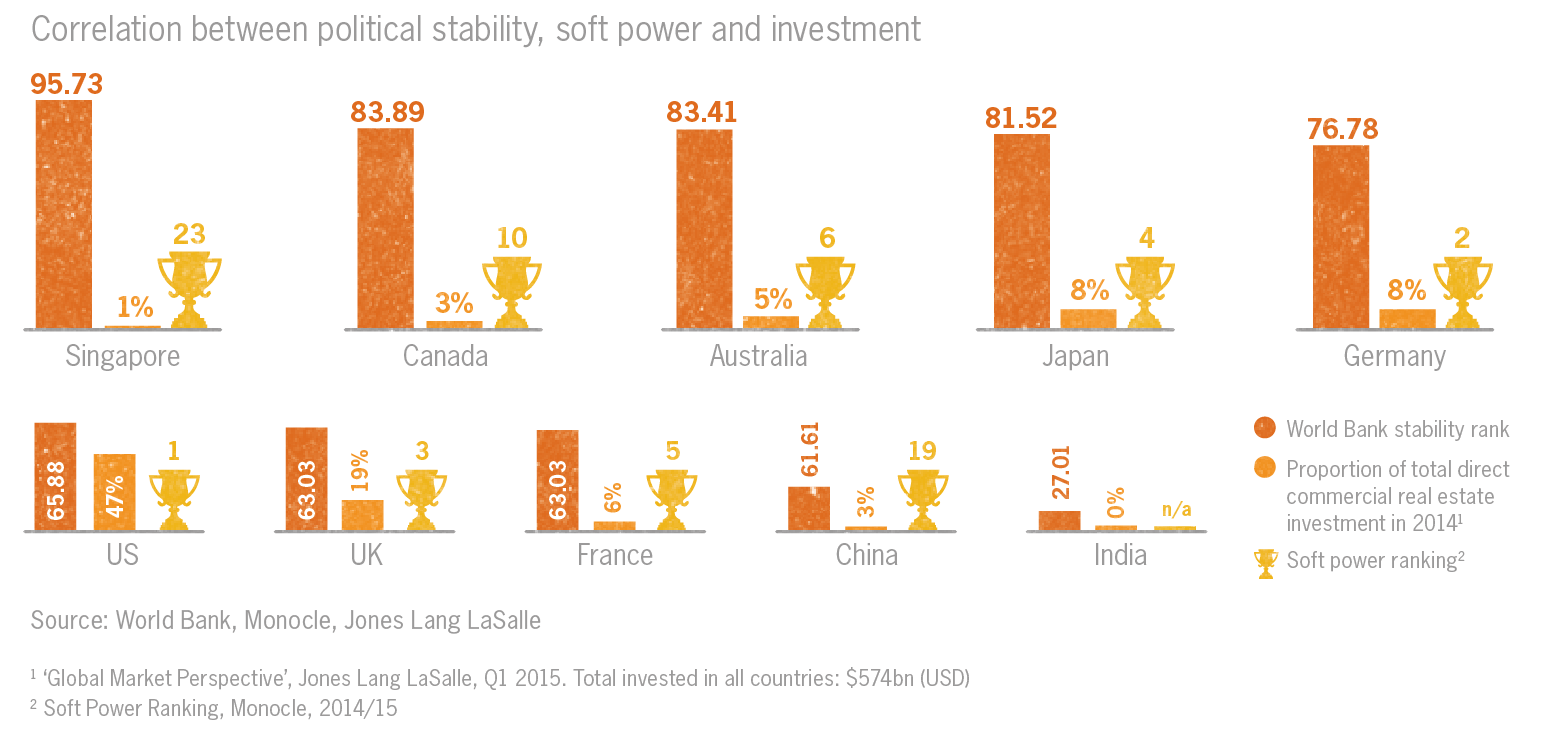 The new report from Grant Thornton finds that the countries with the highest soft power rankings – a measure of a nation's cultural attractiveness and allure – are not necessarily those ranked highest when it comes to political stability. When exploring the factors proving particularly attractive, a striking correlation emerges between the level of overseas students countries receive, and the amount of overseas real estate investment. (See graphic below.)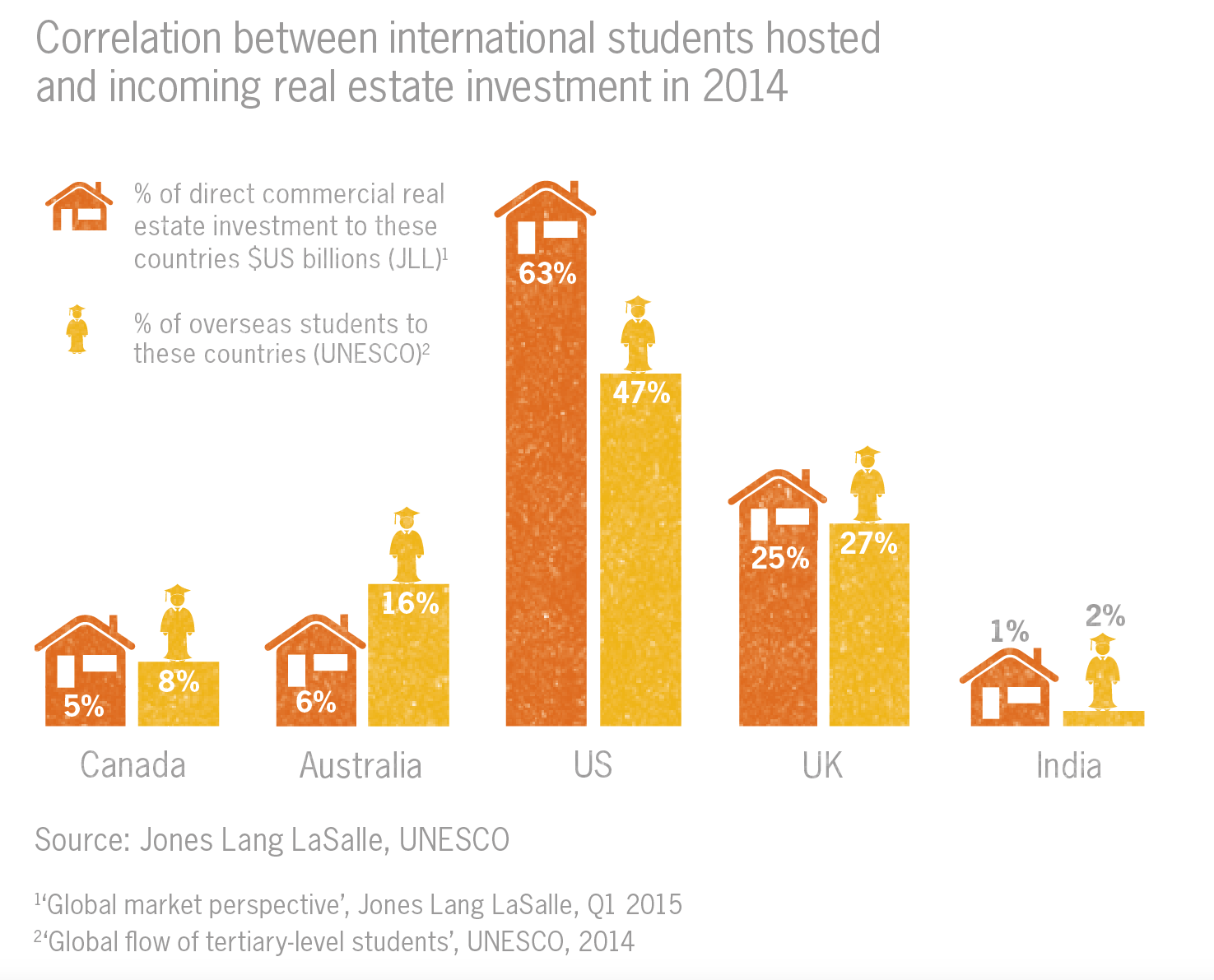 Sian Sinclair added:
"In conversations with investors around the world it became apparent that soft power carries serious weight. Further analysis found that investors don't tend to pick a market without having a connection. And education is one of the most powerful connections; where students go, the real estate money follows.
"But falling into the trap of thinking you don't need a lot of evidence before making a decision could mean missing out. Investment horizons can be broadened by complementing instincts with use of evidence and analysis. Critical to this is incorporating local expertise, which can often present opportunities which may not otherwise have been considered.
"By balancing gut instinct with greater factual analysis, investors will be best placed to navigate the shifting sands and make the most of previously uncited opportunities."
Grant Thornton's new report, Uncovering opportunities for overseas investment and growth, explores the trends, challenges and opportunities facing the global real estate market today. It provides practical, achievable actions for investors looking to harness the forces shaping global real estate activity. To download a copy please www.grantthornton.global